Initiativtageren til Excelsiors hus i Havnegade var logens første Ordførende Mester, bogtrykker K. Rosendahl, men bygningen stod først færdig i 1962, hvor læge S.A. Andersen var Ordførende Mester. Arkitekten bag bygningen var den lokale Søren Nørgaard.
Siden sin stiftelse som arbejdende loge i 1949 havde Excelsior arbejdet i lejede lokaler på det daværende Hotel Spangsberg. I 1962 stod den moderne frimurerbygning i Havnegade imidlertid færdig med et bruttoareal på hele 1.149 kvadratmeter fordel på to etager (og en kælder) og med to logesale, hvoraf den største normalt kan rumme 110 personer, men ved særlige arrangementer op til 150. Spisesalens kapacitet er 120 personer, men kan sammenlagt med kaffestuen rumme 150.
Den lokale kunstmaler Egon Svarrer, hvis far var medlem af Sankt Johanneslogen Excelsior, har over indgangen til en af husets logesale udført en glasmosaik med Johannes Døberen som motiv.
Bygningen i Havnegade benyttes af både Sankt Johanneslogen Excelsior og Sankt Andreas-instruktionslogen Ansgar.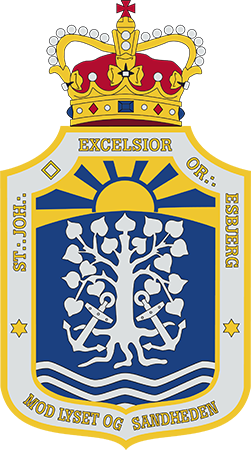 https://www.ddfo.dk/wp-content/uploads/2023/02/Skjold521.png
450
251
Mikael Boe Larsen
https://www.ddfo.dk/wp-content/uploads/2022/12/DDFO_St-Georg_logo_farve-500x179.png
Mikael Boe Larsen
1949-10-18 01:00:00
2023-09-13 11:05:51
Sankt Johanneslogen Excelsior